It's that time of year once again when geeks, music industry insiders and filmmakers of all stripes resort to shameless self-promotion in an attempt to be chosen to present at the annual South by Southwest (SXSW) conference in Austin, Texas. We here at Public Knowledge are no exception and we ask that you take a minute out of your day to vote for our two panels (using the stupidly large buttons embedded below), so that we can educate music bloggers about their rights and share ideas about new business models and revenue streams with professional musicians:
Bloggers Fight Back: Legal Workshop for Music Bloggers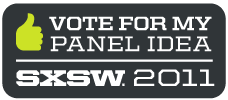 In this workshop, Michael Weinberg and I will attempt to clear up some of the confusion that surrounds the legality of posting MP3s on blogs for purposes of promotion and critical commentary. Click the link above for a full description and to vote.
How to Connect with Fans Online, Reap the Benefits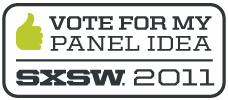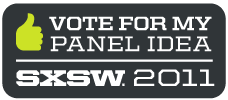 In this workshop, PK's Alex Curtis will discuss the results of a case study designed to evaluate the effectiveness of new tools and business models for professional musicians, with an emphasis on which methods can help boost an artist's bottom line (note: there are two different versions of this workshop–one is a solo presentation and one is a panel–hence, the two buttons above).
Thanks for your support and hope to see you down in Austin in March!